Play Solitaire Online For Free
Welcome to Solitaire Online! Solitaire Online is a free game site where you can play Online full-featured versions of your favorite solitaire games. The games work in almost any browser like IE, Firefox, Chrome, Opera on the Mac, Windows, Linux, iPad, iPhone, iPod Touch and Android.

Follow Solitaire Online on Facebook
for updates and news!
How to play Egypt Pyramid Solitaire Games well?
Nowadays,
Solitaire Card Game
is the most popular card game on the world.
Pyramid Solitaire
is so challenging card game that come from Acient Egypt.
Play
Pyramid Solitaire
Games
, you must help the Pharaoh build his illustrious pyramids by removing all the cards dealt at the start. Clear cards by selecting pairs of cards that add up to exactly 13.
There are some levels of
Egypt Pyramid Solitaire
Games
you may select:
1.

Rule – How to play Pyramid Solitaire:
Aces count as 1, Jacks count as 11 and Queens count as 12. Kings count as 13 and can be removed at any time by simply clicking on them. All other cards are at their face value. So for example you can combine an Ace and Queen to remove the pair, or Jack and a 2 to remove that pair.
To aid you, you may place a single card in the Temp Card Store. This will increase your pairing options by allowing you to get to otherwise impossible to reach cards that are in the pyramid. To successfully pass a round it is absolutely necessary for you to use this card store strategically and to do some planning and thinking with it!
Additionally the undo button will undo any single move, obviously that's great for fixing minor errors but there is a little trick for pro players! The trick is to draw 3 additional cards to see if they will change the order of the cards that you will remove from the cards dealt at the top in the pyramid. If not, no harm done, just undo the move and continue matching the pairs of 13. Of course it helps that you can use this little trick any time it is convenient!
Pyramid Solitaire Ancient Egypt rewards excellent play and strategy. You receive bonus points for completing a level quickly, removing all cards in both the pyramid and the deck, and failing that for any remaining cards in the deck that you have not uncovered. The game is quite kind, in that there is always a bonus if you complete a round although of course better play, always means better bonuses!
2.

Tips to play Pyramid Solitaire well
Although not easy to win Pyramid Solitaire, but there are some tips you can use:
- Always remove Kings as soon as possible, they literally just get in the way.
- Try to plan your moves. Look at the board and see what cards are blocking other cards.
- You absolutely must use the temporary card store. Combine that with planning and you can win most deals. Often simply by moving one card from the pyramid down to the store you can instantly uncover another card that you can use immediately.
- This almost a bit of a cheat. You can use the undo card to look at the next 3 cards coming. This will allow you to plan your moves more effectively.
- At the bottom where the groups of three cards a dealt, if you have too many cards the game will hide them to save space. Those cards are always there, just hidden!
- Remember you don't have to remove every card, just the pyramid at the top.
Thank you very much to choose us.
Wish you always happy and successful.
---
More Infomation About Solitaire

Select a solitaire online game to begin playing.
Numbers represent number of wins today and number of games played today.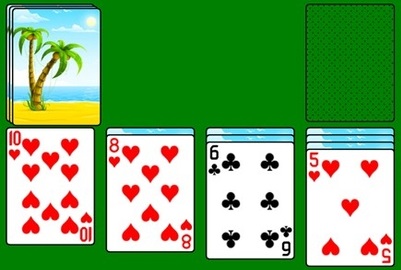 Familiar interface since Win 3.1
Solitaire Online Features
:

More than 40 solitaire online game variations to play.
In addition to PCs and Macs, the solitaire games work on the iPhone, iPad, iPod Touch and Android devices.
Game state and card positions remembered when you leave and then return to the game later.
Choose from different decks of cards, including a set made for phones and small screens, and one optimized for older versions of Internet Explorer.
Choose from different solitaire backgrounds like while, green... background.
Unlimited undo moves allowing you to try different ways to win your solitaire online game.
Two methods of scoring to accumulate points over multiple games.
Most games allow you to customize some rules, like the number of cards dealt from the stock and the number of times the stock is re-used.
Cards resize to fit your browser window.
Three ways to move cards: drag and drop, click to select and then again to place, double click to move to next available spot.
Autoplay mode turns over cards and deals from the stock automatically.
Completely free to play! No signup at all without you want to save your score game over.
Copyright 2002-2023 Web Of Solitaire .Com