Play Solitaire Online For Free
Welcome to Solitaire Online! Solitaire Online is a free game site where you can play Online full-featured versions of your favorite solitaire games. The games work in almost any browser like IE, Firefox, Chrome, Opera on the Mac, Windows, Linux, iPad, iPhone, iPod Touch and Android.

Follow Solitaire Online on Facebook
for updates and news!
How To Play Spider Solitaire - Play Free Card Games Online
Welcome to Web of Solitaire where you can find the best solitaire card games free. One of the most popular and difficult solitaire is Spider Solitaire. In this article, we'll show you how to play Spider Solitaire, Rules and Strategy to win.
~~~
HOW TO PLAY SPIDER SOLITAIRE
Card Layout
Spider Solitaire is played with two packs of playing cards. After thoroughly shuffling both decks together, 4 rows of 10 face down cards are dealt to form the tableau columns. 4 more cards are dealt face down to the 4 leftmost columns and then a face up card is dealt to the end of each column. The remaining cards are placed face down to form the stock.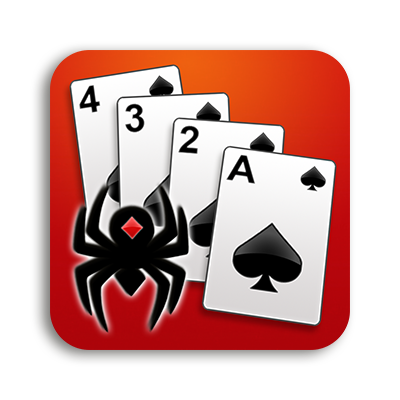 How to play spider solitaire
Spider is usually played with two standard decks of playing cards, but the game is very difficult that way. Spider One Suit and Two Suit game variations exist that still use 104 cards, but only use the Spades in the one suit game and Spades and Hearts in the two suit game. Extra packs of cards are required to make up the numbers. This makes Spider considerably easier.
Objective of Spider Solitaire - How to win
The goal of the Spider Solitaire game is to build cards in descending order: King, Queen, Jack, 10, 9, 8,7,6,5,4,3,2, and Ace in the columns of the tableau. Once you form this sequence, you can instantly locate it to the foundation. Once you play all the cards and you have moved them to 8 separate descending sequences, then you win the game.
In order to determine significant differences, it is ideal to define the terms used in playing the game.
The tableau refers to the columns and rows of cards where you play the game. In the conventional form, the tableau is made of seven columns with every column containing a single card rested atop on a stack of cards on face down. While traditional Solitaire is played with seven stacks in the table, Spider Solitaire is played with 10 stacks.
The Foundation refers to the area in the tableau where you need to move the cards as you play the game. Your objective is to move all the cards in the Foundation. Meanwhile, the stock refers to the remaining cards that are not yet dealt when you set up the game. Once you cannot make more moves with the current face up cards, you can pick cards from the stock.
Spider Solitaire is different from traditional Solitaire Game in terms of Suits, Sequencing Cards, and Stock.
Spider Solitaire is regarded as one of the most difficult among the variations of solitaire game. Based on how the cards are drawn, most games can be very difficult to win. It is estimated that you can only win at least 50% of the time. Take note of this and just don't concentrate on your score. The game is for entertainment so just enjoy it.
How to Play Spider Solitaire - Rules of Spider Solitaire
Building the card sequence is done on the columns on the tableau with the foundations not really an active element in the game. You can move revealed cards from the end of the column to another column if you build a valid sequence even from different suits, for example: 7 of spades, 6 of hearts, 5 of spades, 4 of clubs, and 3 of diamonds.
You can also transfer a packed sequence of descending cards as one group to another column if they are from similar suit such as 9 heart, 8 heart, 7 heart on 10 heart or 10 club. Hence, you can try to pack cards of the same suit if it is allowed, or else you will stuck early on. If you can create a complete sequence of descending cards from King to Ace, then you can move instantly to one foundation.
You can move any card or a sequence of descending cards to empty tableau columns. Once you cannot make any move, you can click on the stock to draw another card to every column on the tableau. It is a must to fill the empty columns in the tableau before you can draw cards from the stock, even it could break the sequence that you have already created.
In the traditional form, you need to deal one card from the stock once you can't make any moves. In Spider Solitaire game, using the stock means adding one card to every column in the tableau, which has advantages and disadvantages. The main advantage is that you can work with more cards. On the other side of the coin, the cards that you have dealt will cover the sequences that you have already made, which means you need to sort them out of the tableau to continue the card sequences.
Spider Game Variations
In traditional Solitaire, the four suits are played. But in Spider Solitaire, this is not strictly observed. There are three levels according to difficulty - One Suit (Easy), Two Suits (Medium), and Three Suits (Hard). It is highly recommended that you master each suit first before you move up.
The game varies in difficulty from fairly easy to really difficult depending on how many suits you use. So, Now you know how to play spider solitaire, it's time for you to play.
Rule 1 - One Suit (Easy) Spider Solitaire
All the cards are Spades. This makes the game considerably easier than genuine Spider which uses all four suits, but there's no easy ride; you'll get less points if you play with a training bra.
Rule 2 - Two Suits (Medium) Spider Solitaire
The cards consist of two suits, Spades and Hearts. This makes Spider a nice challenge and you'll be rewarded with more points if you're up for it.
In order to simulate the game using a two-standard card decks, just think that all black cards are one suit and the other is all red cards. The packs can be transferred if they are in perfect order and they are all from similar suits. For example, you can move a 10 of hearts, a 9 of hearts and an 8 of diamonds unto a red Jack.
Rule 3 - Spider Solitaire - Hard
These are the original Spider rules, using all four suits from two complete decks of cards. It's very difficult and you'll be awarded a nice bonus if you complete this game rule.
~ Thank you to visit our web ~
Have a good time and Wish you always happy
---
More Infomation About Solitaire

Select a solitaire online game to begin playing.
Numbers represent number of wins today and number of games played today.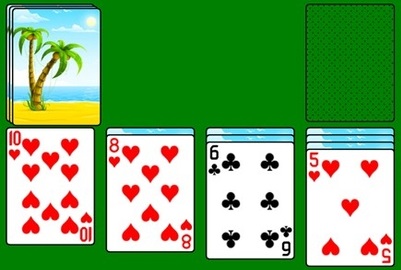 Familiar interface since Win 3.1
Solitaire Online Features
:

More than 40 solitaire online game variations to play.
In addition to PCs and Macs, the solitaire games work on the iPhone, iPad, iPod Touch and Android devices.
Game state and card positions remembered when you leave and then return to the game later.
Choose from different decks of cards, including a set made for phones and small screens, and one optimized for older versions of Internet Explorer.
Choose from different solitaire backgrounds like while, green... background.
Unlimited undo moves allowing you to try different ways to win your solitaire online game.
Two methods of scoring to accumulate points over multiple games.
Most games allow you to customize some rules, like the number of cards dealt from the stock and the number of times the stock is re-used.
Cards resize to fit your browser window.
Three ways to move cards: drag and drop, click to select and then again to place, double click to move to next available spot.
Autoplay mode turns over cards and deals from the stock automatically.
Completely free to play! No signup at all without you want to save your score game over.
Copyright 2002-2023 Web Of Solitaire .Com